Recommended course for Hakata-Jima cycling beginners from Ohmishima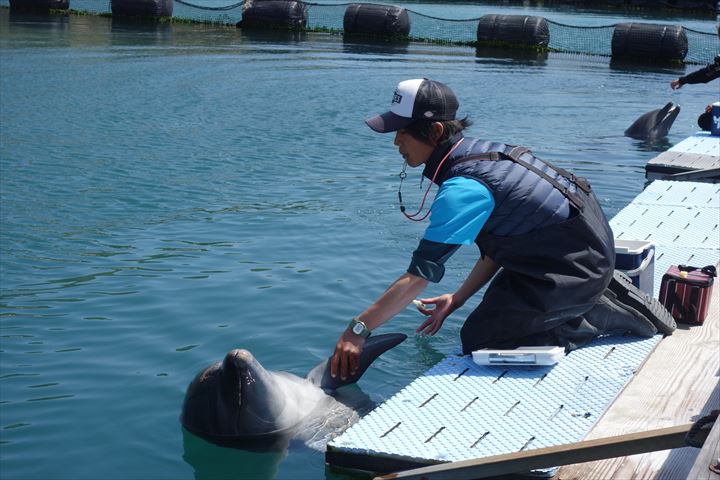 Dolphin farm is a stopover destination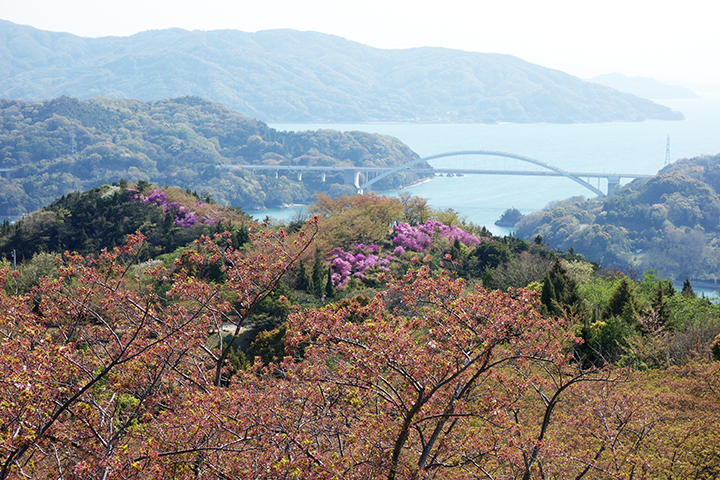 Hiraki-Yama park is also wonderful


This page introduces Recommended course for Hakata-Jima cycling beginner '' to Hakata-Jima from the center of Shimanami-Kaido 'Tatara-Shimanami Park'.
Hakata-Jima is the smallest island in Shimanami-Kaido. It is famous for "Hakata's Salt"
Salt factory itself has moved to Ohmishima, and tour of salt generation can only be done with Ohmishima.
Hakata-Jima is sandwiched between Ohmishima and Oshima and tends to be a position like a passing conductor.
If this Hakata-Jima cycling, we recommend cycling "Open Mountain park" by all means.
(Click a point to see a brief explanation.)
Round trip: approximately 40 km inside the island height difference: about 140 m (excluding the approach to the bridge) time it takes to go back and forth: about 4 hours while stopping here and there
Run from Ohmishima's Tatara-Shimanami Park to Ohmishima Ohashi Bridge to Hakata-Jima's base "To Marine Oasis Hakata"(On the map③)

Ohmishima Ohashi is a beautiful bridge with an arch.
From Tatara - Shimanami Park to Hakata - Jima next door, over the Ohmishima Ohashi, we aim to become "Marine Oasis Birth place famous "salt soft " from Hakata-Jima.
For beginners of Shimanami-Kaido's cycling, there are many people who are tired of this "approach road that goes up from the island to the bridge".
Certainly, people who are not familiar with bicycles everyday may think that this approach road is "This climb is awful a little, is not it !!"
However, this approach road is not where it lasts for a long time (at most 5 to 10 minutes), let's gear the most lightly and let's do our best to climb.
As you climb up the approach road, the beautiful Ohmishima Ohashi is welcoming you.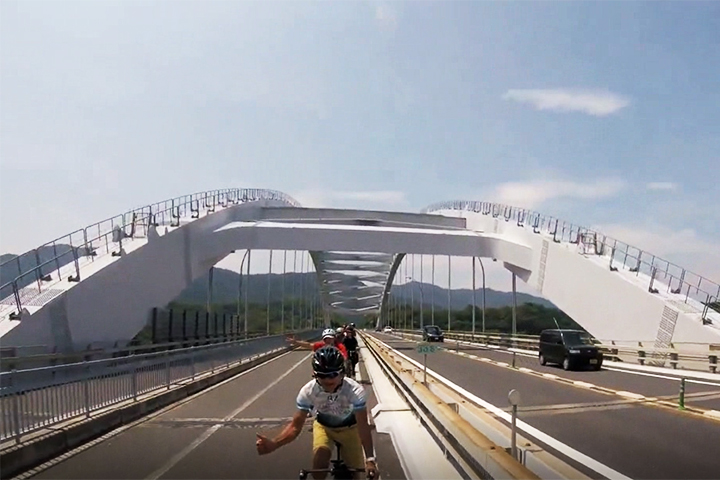 A beautiful arch bridge welcomes you
Although it is a considerably hard slope, I definitely want to go to the opening ceremony park also for a beginner cyclist.(On the map⑬)
There is a park called Hirakiyama Park, with an observatory.
This open space park is called "Hirakiyama Park."
If this cyclist, Shimanami-Kaido cyclist, it is absolutely necessary to go to the mast cycling course ".
Although it is good, I also did not know at all until recently....
このPanoramic view from this observatory, it is incredibly amazing.
It is a 360 degree panoramic view that you can see 3 bridges of Tatara Ohashi, Ohmishima Ohashi and HakataJima-Oshima Ohashi.
Moreover, it is. Around 360 degrees around this observatory, it is all cherry tree (Yoshino cherry tree).
I heard the rumor this year and went for the first time, but unfortunately all the cherry blossoms were scattered.
You can see the above video ↑ ↑ ↑, but the surroundings of the observation deck are dyed in pink.
This is all, cherry blossoms! If in full bloom, how beautiful can you imagine? !
The time when cherry blossoms are crowded, it seems that cars and shuttle buses do not move at all.
However, I think that if you are a bicycle, you will be able to sew through...
I think that the most famous scenery in Shimanami-Kaido will be "Mt. Kirou-san" of Oshima, but from this "Open Mountain Park" panoramic view,
I would like to recommend "Panorama view from Open Mountain park" as a beautiful landscape of Shimanami-Kaido, together with the "Mt. Kirou-san Sunset".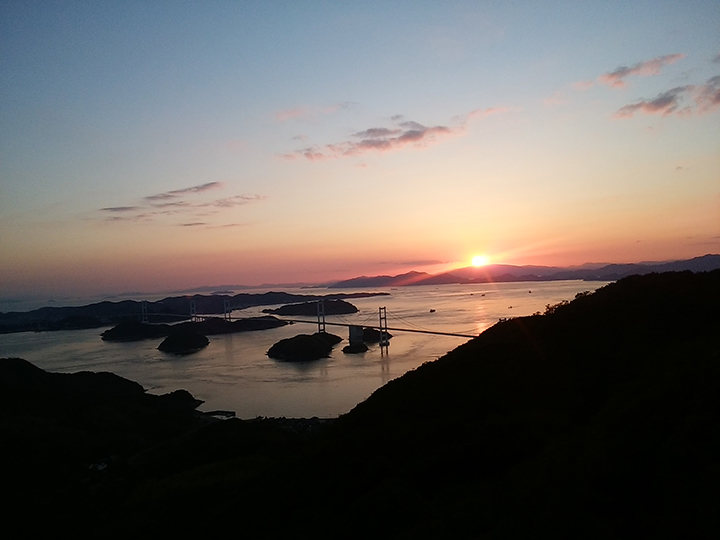 The sunset is beautiful in Mt.Kirou-san
Certainly, as "picture" I think that Mt.Kirou-san will be said to be "instantiate".
Unfortunately, the panoramic view from Open Mountain does not fit in a single picture.
However, please check it with your own eyes by all means.
This opening ceremony park is a recommended cycling course that I would like to add in Shimanami-Kaido's cycling course.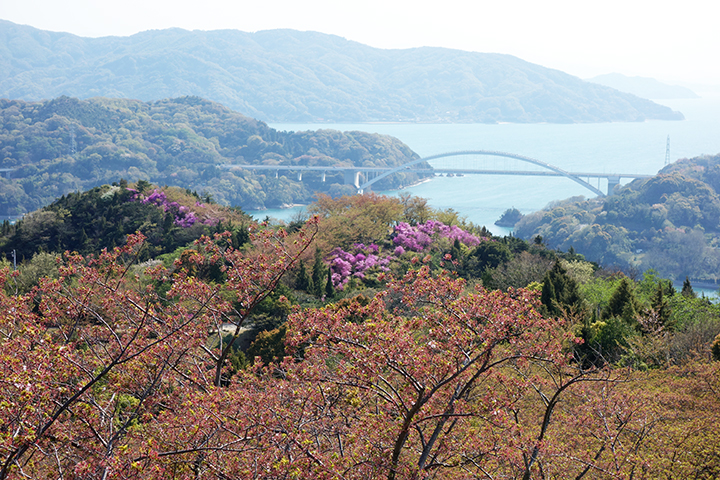 Ohmishima Ohashi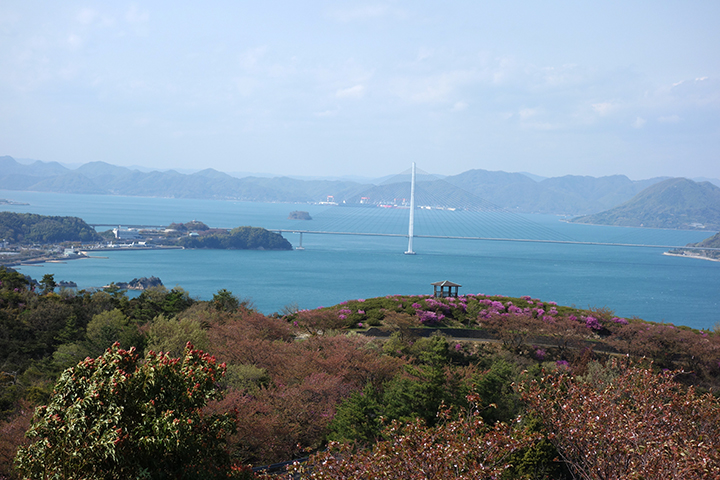 Tatara Ohashi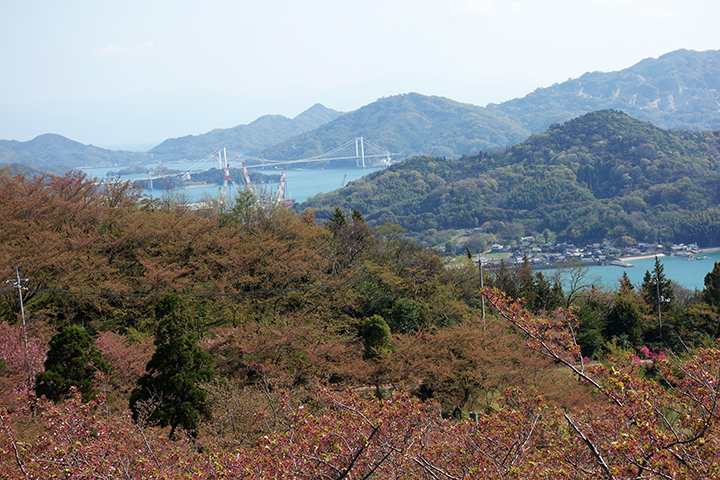 Hakata/Ohshima Ohashi
The beauty of panorama from Kaiyama park can not be told by my photography technology. Come, please check with your own eyes.
Oh, but it's quite hard. I climb as high as 140 m.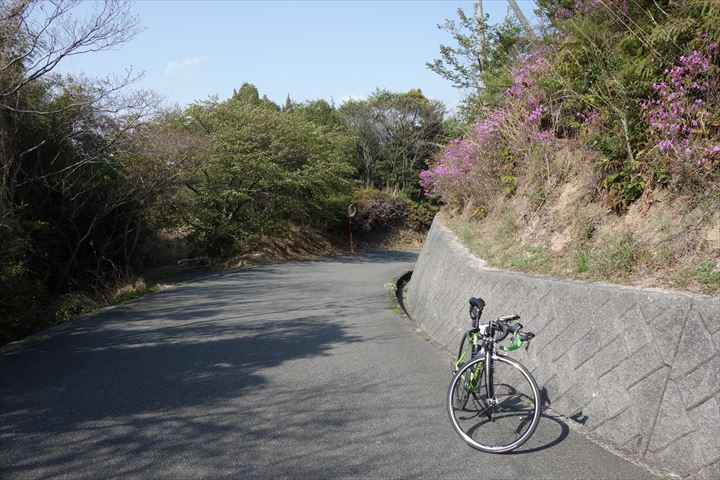 I took a break several times.
Even if you push it up, it's okay at all, I definitely recommend it.
Enjoy relaxing and beautiful beach at Okiura beach(On the map⑧⑨⑩)
A cycling course recommended by Hakata-Jima along with Kaiyama Park is a natural coast called "Okiura Beach".
There seems to be a lot of customers in the sea bathing season, but at other times, there are few customers, and it will become a private beach.
It is a beach with a length of about 1 km, and it is a beach with no one person.
Because there is a wood deck and a toilet that can rest on the opposite side across the road, before you climb to Open Mountain Park, drop in with a hula and feel the transparency of the sea
I think that when I climb to Kaiyama Park, "the view of the ocean that was so transparent," the impression will also double.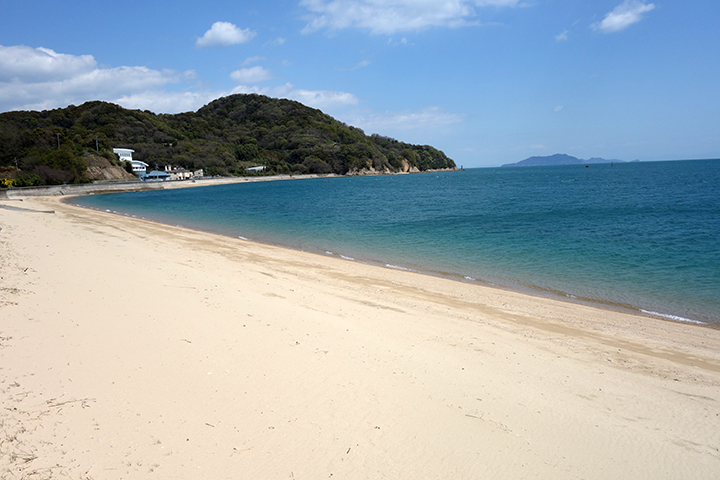 The bluishness of this sea.
Is this a resort on the south island?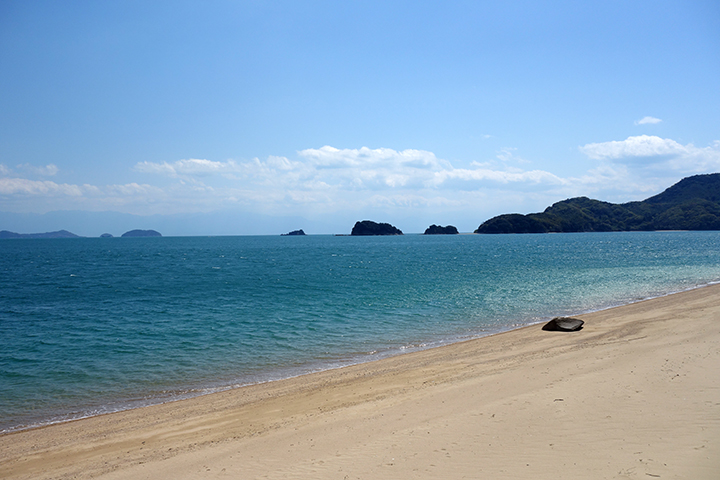 There was no one in the beach in April.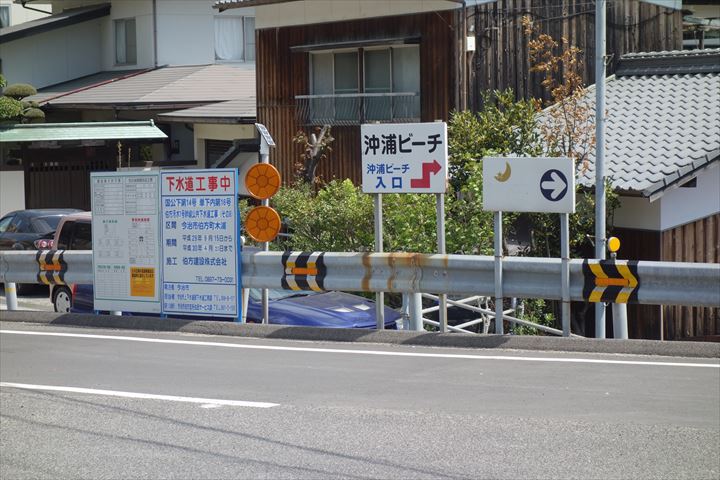 Do not overlook the guide board
Go to Funaori-Seto at first looking forward to Salt icecream of marine oasis Hakata at last (PHOTO:④⑤)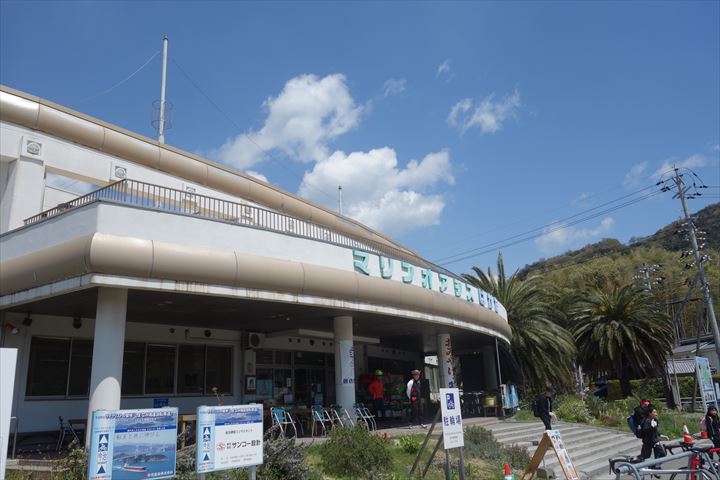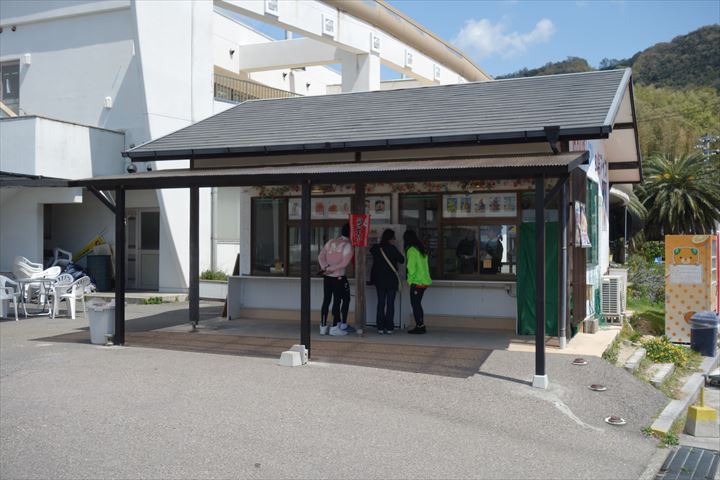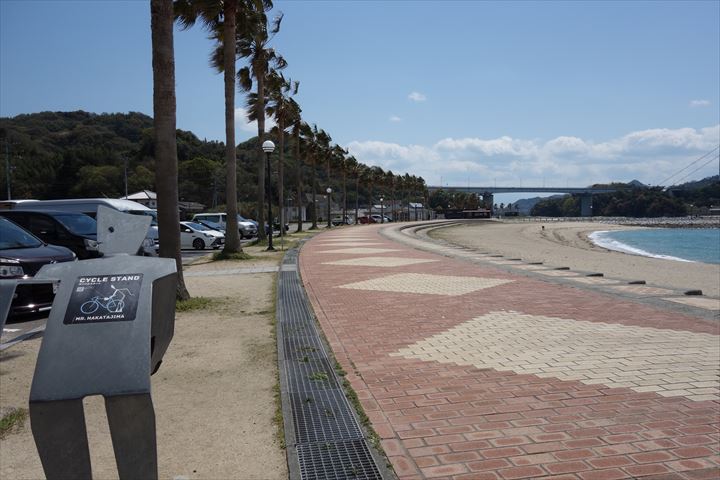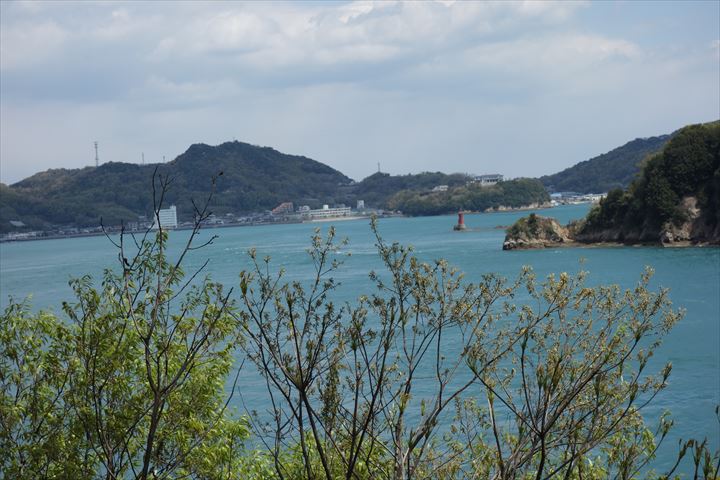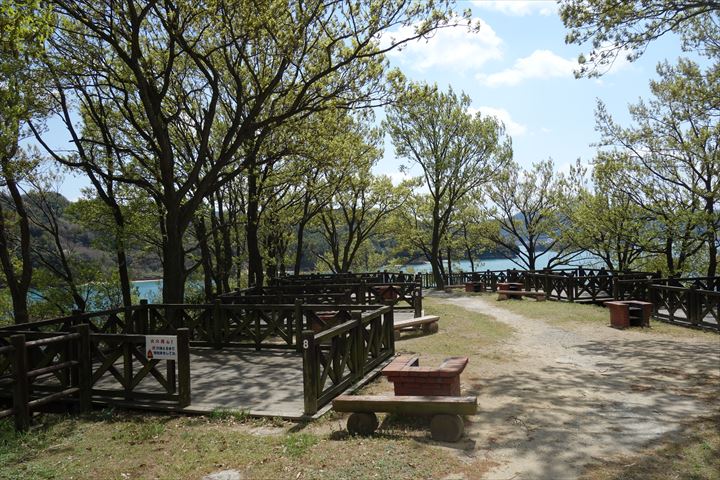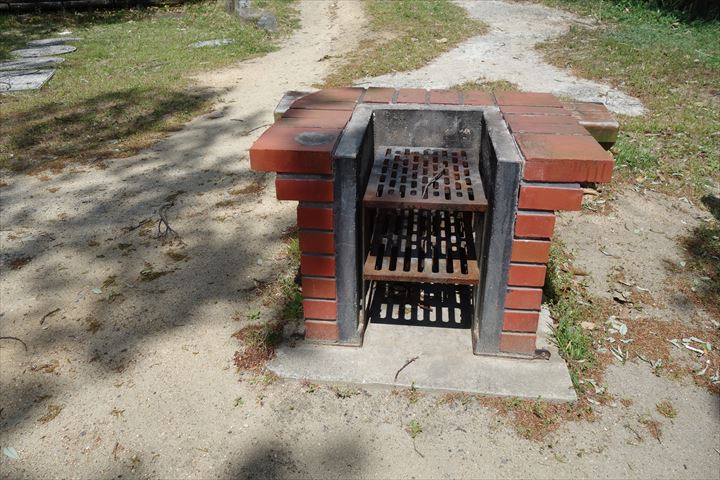 As I come to Hakata-Jima, I definitely have to eat Hakata's salt ramen(On the map⑪)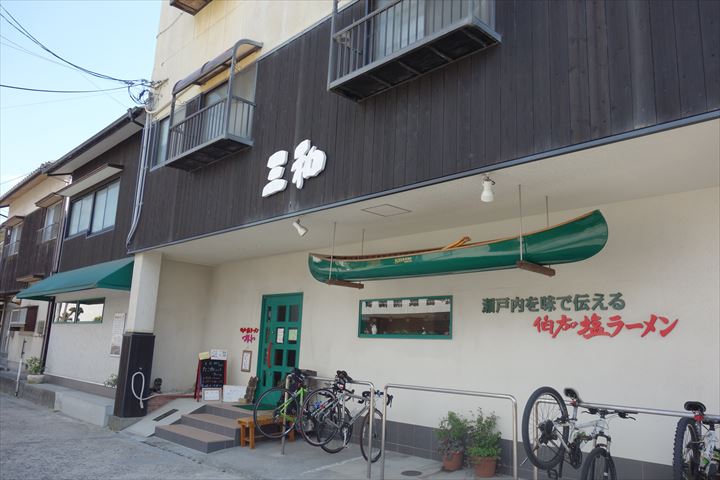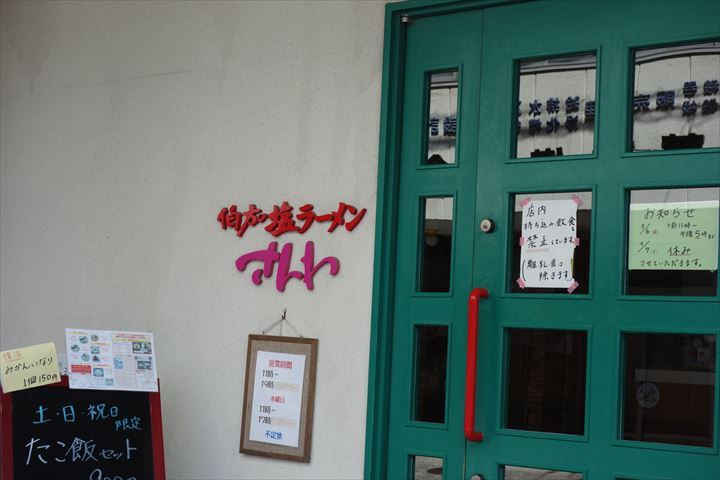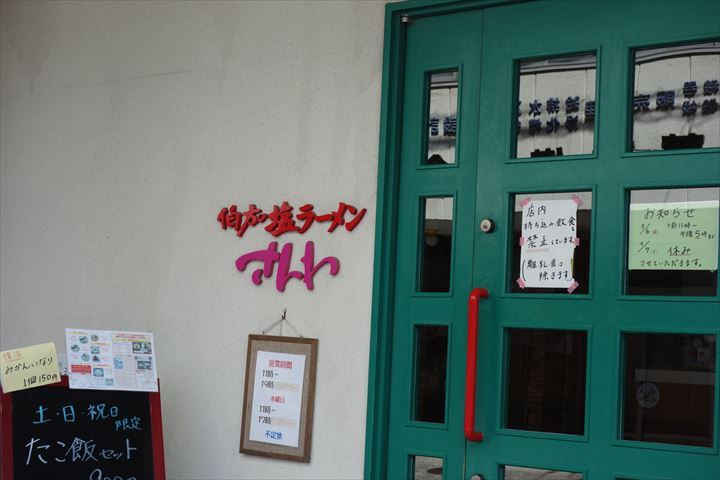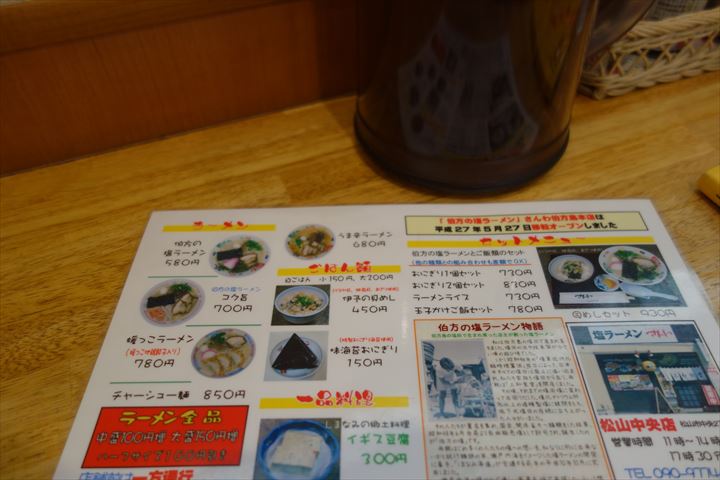 Unfortunately, there is no business in the day, "Akakichi(あか吉)" which is very popular locally.(On the map⑫)
Recommended book for Shimanami beginners

Speaking of books recommended for beginners, it is definitely "Shimanami Island running book".


Anyway, this book introduces funny place of shimanami and place to pay attention to who is a cycling guide with Shimonami "Utsunomiya Issei" It is a book that I am doing.


It is a great thing that if you have this book, you do not need any other books at all. Kazunari Utsunomiya is a wonderful person who is & deco(b,red,,){I've been traveling around the world on my honeymoon with two passenger bike}. There is no doubt because it is a book written by Mr. Utsunomiya.
& br;
The content of the book is introduced in detail here。⇒Recommended book for Shimanami beginners