Lunch Recommendations at Ohmishima Store Update
I was able to eat delicious meat dish inspirationally at Ohmishima. To provide this charcoal-grilled food at 800 yen! ! For this delicious meat dish lunch, a wonderful and comfortable young couple will cut offSHOP is here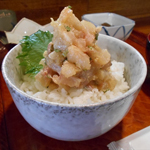 I went to "KITUNE - NO - BOTAN" who is reputed that fish dishes are delicious at Ohmishima.
The "NAMEROU" (rice bowl of tartar horse mackerel) was a delicious taste coming out as I chew it, and it was very delicious.
Furthermore, the young couple spoke frankly and it was a very atmosphereful shop.