Imabari - Oshima Recommended Point Time required
This page introduces recommended points from Imabari to Oshima to Hakatajima Ohashi and the required time to the recommendation point.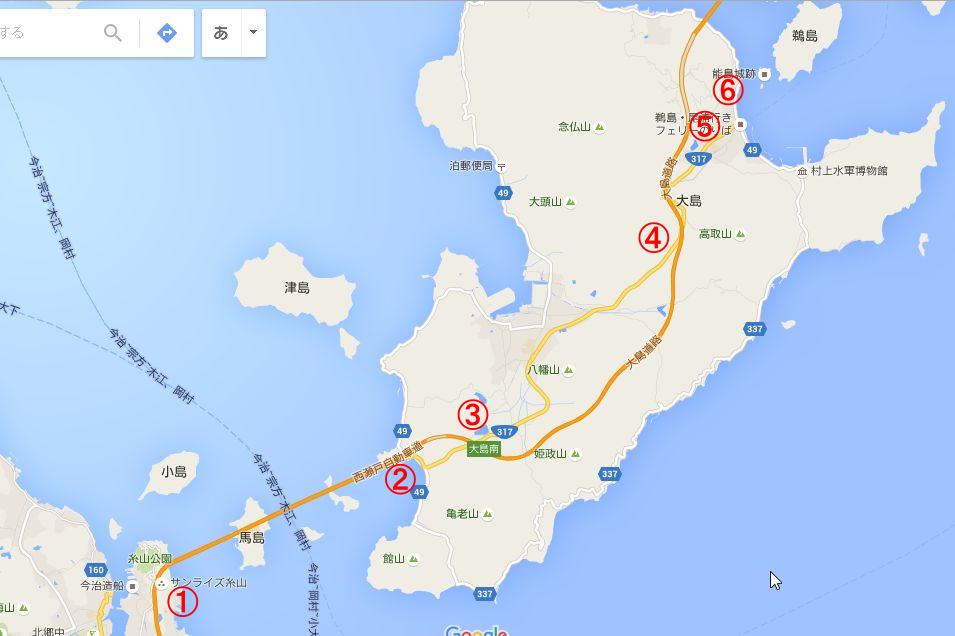 Departures from Imabari side from Sunrise-Itoyama(①)
Sunrise-Itoyama ① is recommended as starting point from Ehime side of Shimanami-Kaido. There is also a cycling station, and even if it brought in the bicycle we gently and carefully correspond. There is also air putting in, so let's prepare and depart firmly.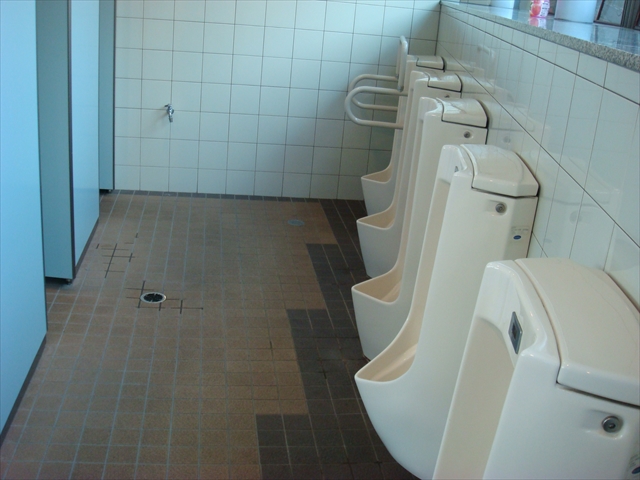 Sunrise - Itoyama has accommodation facilities, too and facilities are substantial, too.
The toilet is also clean and the toilet bowls are both Japanese style and Western style, so let's prepare and prepare well.
However, since shops such as cycle supplies are not fully enriched, let's not forget measures against cold weather, especially during cold weather.


Kurushima Kaikyo Ohashi - Yoshiumi Ikiokan (① ~ ②)
Duration: About 40 minutes (approx. 7 km)
For Shimanami-Kaido cycling beginners, I think that it is recommended to first experience the scenery from Kurushima Kaikyo Bridge.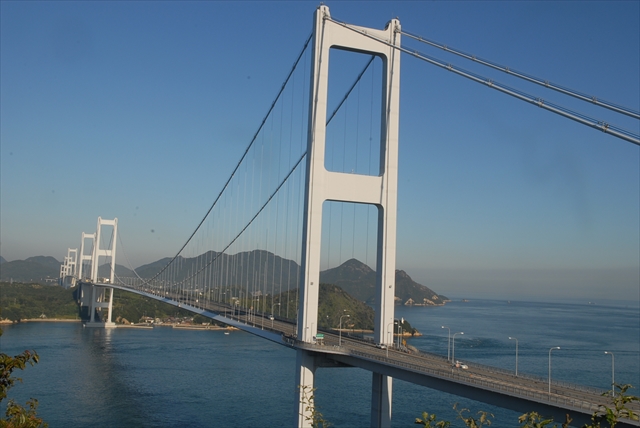 The length of the bridge is the longest.
From the site Honshu-Shikoku Highway
Kurushima Strait 1st Ohashi Bridge: suspension bridge (bridge length 960 m, center span length 600 m) Kurushima Strait 2nd Bridge: Suspension Bridge (Bridge length 1,515 m, Central span length 1,020 m) Kurushima Strait Third Bridge: Suspension bridge (bridge length 1,570 m, central span length 1,030 m)
http://www.jb-honshi.co.jp/use/use_e.html



The Kurushima Kaikyo Ohashi consists of three bridges. It is about 4 km from 4,050 m in total.

The Tazura Ohashi bridge connecting the second place Ikuchijima-Island and Ohmishima Island is 1,480 m, so the length of the bridge is overwhelmingly long. In other words, you can enjoy the scenery and the wind as seen from the top of the bridge all the while.


Yoshiumi Ikiikikan - Hakata ・ Oshima Ohashi
Duration: About 40 minutes (approx. 10 km)
Route 317, which leads to Yoshiumi Ikikan - Hikata - Oshima Ohashi Bridge, runs through Oshima, a long ups and downs continues.
For those who have asked for the cycling of Shimanami-Kaido's 'Bridges connecting the islands' it's not a very attractive cycling road.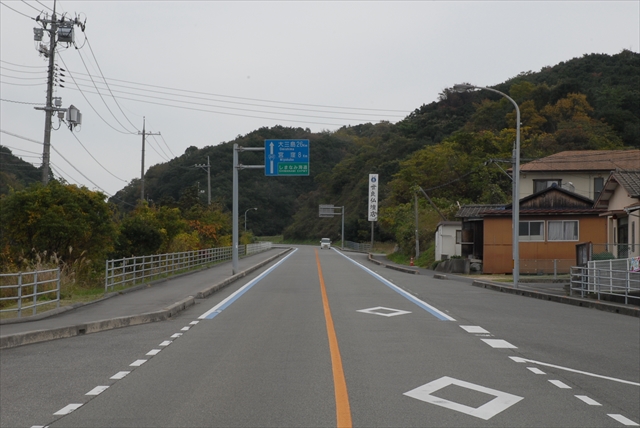 After leaving Yoshiumi Ikikikan and turning towards Hakata Oshima Ohashi, you will see a picture like the one above. The climbing slope continues for a while from here. I ran regularly and climb for about 5 minutes.
Perhaps you think "only 5 minutes!?", But it is unexpectedly hard to climb uphill on a bicycle all the time. Let's do our best and let's go.
The place to climb is the position of? In the figure above.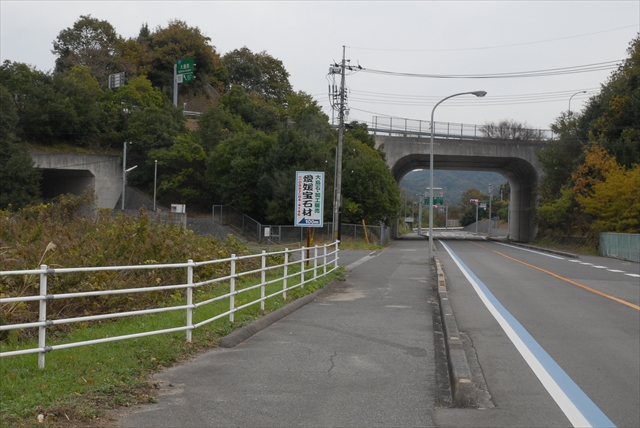 A green signboard appears in the middle of the picture, but this is the display of Oshima South IC on the expressway. Once climbing up to here, climbing slope will end here.
For a while from here, the downhill slope and the flatland continue. It is an ordinary general road and a road which does not replace in particular.
Oshima is a granite stone production area, and there are stone processing places everywhere along the road.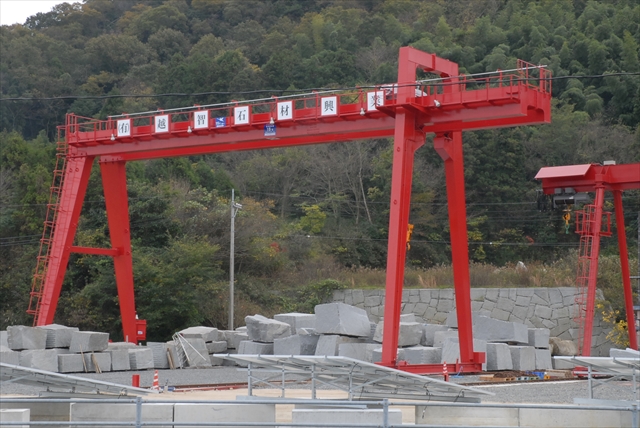 If you are running this road for a while, there is Aoyama stone workshop at the position of ④.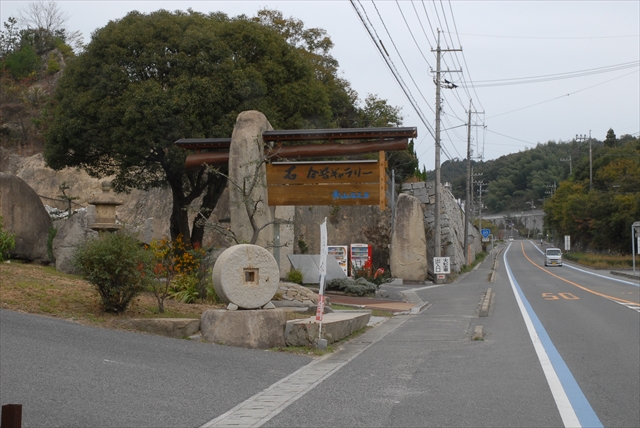 This Aoyama stone workshop is processing the stone into various monuments and exhibiting it.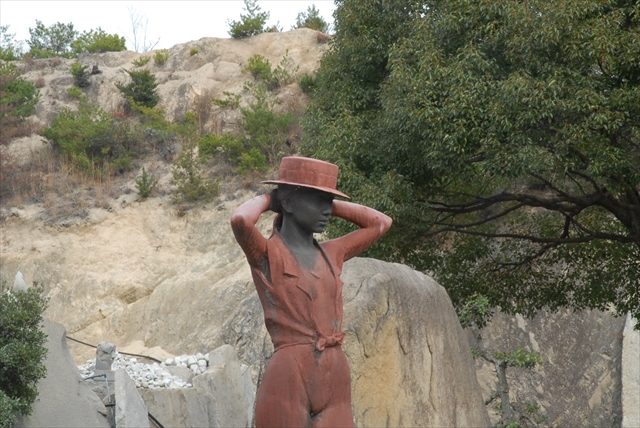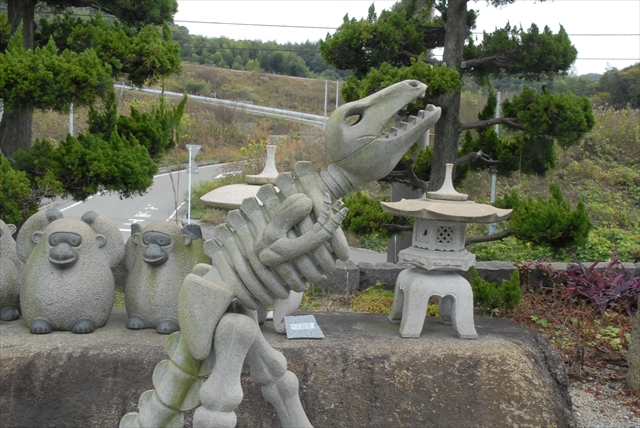 Since everyone seems to be free, if you get tired of cycling, you may want to stop by a bit.
This climbing hill will continue for a while from around here. Because the distance is long on this way uphill slope, people with children need to run while resting, it may be quite tight.
It seems that rich soft cream of stone cafe is delicious (⑤)
When climbing uphill for about 7 minutes, there is a downhill that continues for a long time to the town of Miyakubo near the Hakata Oshima Ohashi Bridge.
It seems like a lie that he has worked so hard so he will go down at a stretch.
There is a stone cafe around where I went down the slope.
When I thought that it was a stylish cafe that was not very similar to Miyubo, it was a cafe supervised by architect Toyo Ito. It was reasonable, I thought it was a bit different from other cafes.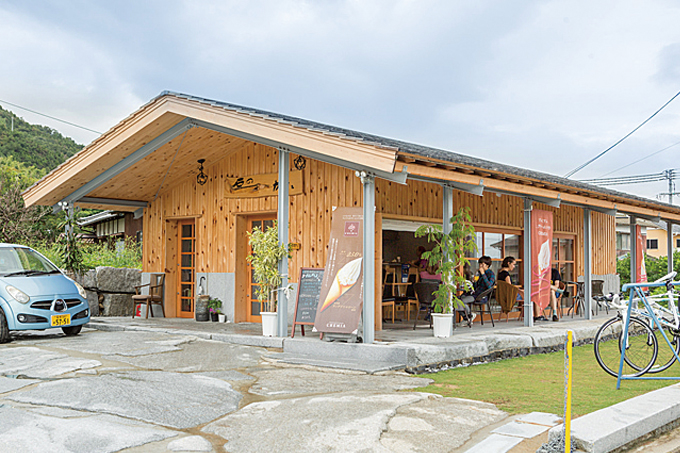 PHOTO BY:http://www.puranori-ehime.jp/map
The carport which used the local Oshima stone abundantly and the inside of the shop made of natural wood are places where you can rest at ease even just that. Especially curry seems famous, but when I go there are many times lagging with lunch time and it is only the timing that "today is over".
It is this stone cafe, but it seems that rich soft cream is delicious. I do not eat Alafif's owner, but a young couple who seems to have come from the Kanto region is "it is delicious, it was definitely rich," but it was definitely delicious, so it is surely delicious. It seems that evaluation is high also in the eating log.


A place for spot where you can feel bookstore grand prize "Murakami pirate's daughter" (⑥)
Running from this stone cafe for about 5 minutes, there are places I highly recommend. It has already been two years ago, but the place where you can look at the Nojima which was the stage of "Musume of Murakami Pirate" of Wada Ryu who won the book store grand prize of 2014 is ⑥.
Although it is this place, although I do not go up to a lot of topics, I think that I am the biggest hole spot in Oshima. In this place, you can see the ocean is flowing gently.
When the tide draws on the sandy beach it is not like the ocean flows a bit like a river.
The whole sea is swirling and moving while swelling. Every time I go to Oshima, I stop by this place and watch for a while. It is a movement of the sea that does not go unspoken even if it sees it many times.