Running bikes recommend practicing children's bicycles
I participated in the running bike event as a volunteer staff the other day.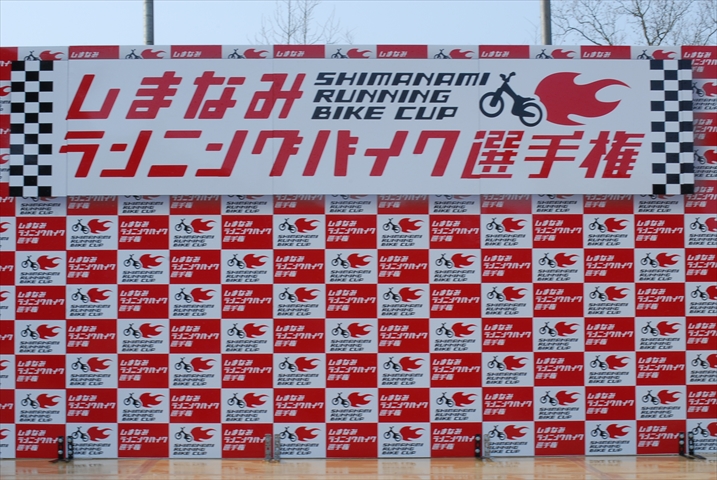 What is running bike?
When I heard the word "running bike" for the first time when I heard the event of a language which can not hear saying "running bike", it is "Lanning?" "Motorcycle?" "What is it?" "Race?" " What on earth is it? "Was an honest first impression.
For a recent papa mama the word "running bike" may be general, but for those of my generation who have already raised their parents in Alafif generation, the word running motorbike is not a word that I can not hear much I wonder.
It seems that the running bike is also called the word strider (maker name).
You can tell by watching the movie, but this running bike has no pedal on it.
As for how Chibikko advances bicycles, spinning a bicycle, while riding the ground with a foot, we recommend a bicycle. In the meantime, it seems to be said that the foot gets separated from nature from the ground, so that he can ride a bicycle smoothly.
This landing motorcycle seems to be quite good as children practicing to ride a bicycle.


The running motorcycle championship was held in the former 'Gifuma ranch' site
The place where this running bike championship was held is the place called Matsuyama Outdoor Center "Rainbow Highland" located in the suburbs of Matsuyama city. Rainbow Highland is a pretty impressive facility with bungalows, campgrounds, athletics, multipurpose plazas, etc. located about 30 minutes from Matsuyama city.
By the time I lived in Matsuyama, it was a ranch called "Giming ranch". When I was in elementary school, I remembered things that came from an excursi naturally. It seems that this Ranbow Highland was made after the pasture.
Quoted from the official page of Rainbow Highland
Do you know that the outdoor activity center here was a pasture? Cattle crawls pasture, parents and children and couples relax and a picnic ...! Such a scene was seen at the municipal Government Five Ming farm which opened up 16 hectares of forest of Sugawawa Town in Matsuyama city in April 1954. Although there were also plans to redevelop it as a "tourist ranch", it was regarded as the best place for campgrounds and the ranch closure was decided. The thought of dairy related persons was also vainly In June 1961, the municipal ranch disappeared for more than 22 years since OPEN.
http://www.cul-spo.or.jp/rainbow/gomyo/gomyou_03.html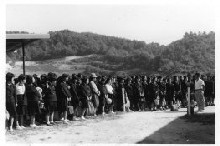 This photo was quoted from the official Division of Rainbow Highland, but it is a picture of the state of the Goryeo Ranch at the time.
If you think that you might have been in such a photograph, I feel the year is truly.


More than 150 children gathered at the running bike championship
The events of this running bike gathered more than 150 children aged 2 to 5 years old.
Depending on children, parents, moms, older brothers, older sisters, and family, grandparents, grandmothers, cousins and cousin participate together, it is a gorgeous and lively competition.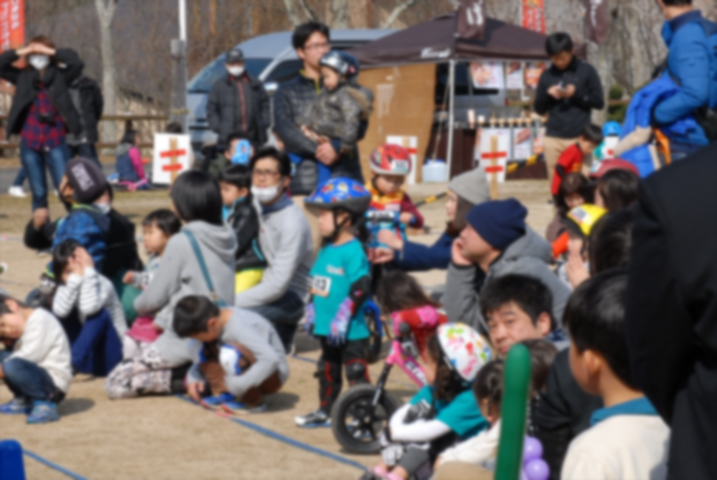 (The picture is blurred)
The day before the event that we visited to prepare for the course setting was low temperature, it was a very cold day when the strong wind blows, but on the day the running bike event was held, the coldness of the previous day got clear like a lie It became a mild weather, and it was just a "miraculous day" if you borrowed the words of the staff at Rheinba Highland.
In this mild sky, chibi's running motorcycle race was held.
From 2 years old chibi to 5-year-old Chibikko will participate, it is the race "with laughter and tears" exactly.
Children listen carefully to the advice of father and mother, nodding while looking at the course with "kits", children who cry out, "No, I do not want to go out", children who do not go from the goal point even if they start Children.
However, every child straddled firmly on a bicycle, riding a bicycle while releasing his feet from the ground.
In the final game of two-year-old children, it is surprising that "This is truly a two-year old junkie?" It is a manner of breathtaking bicycles.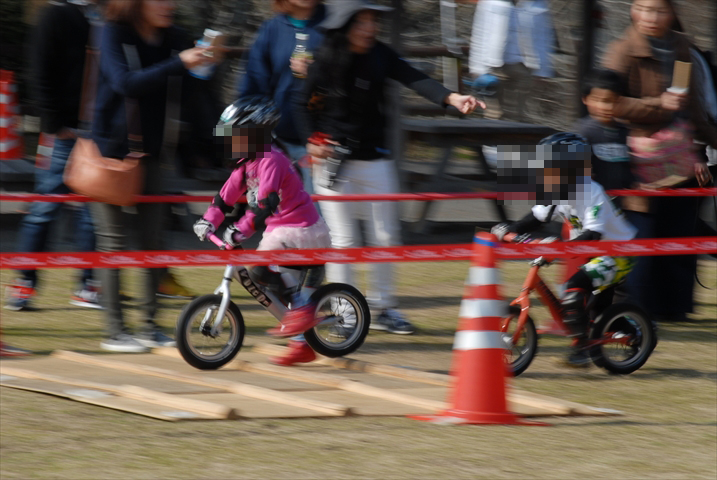 (A state of the final game of a 2 year old child. for privacy, puting in a mosaic.)
A good reason for running bikes as a practice method for bicycles for children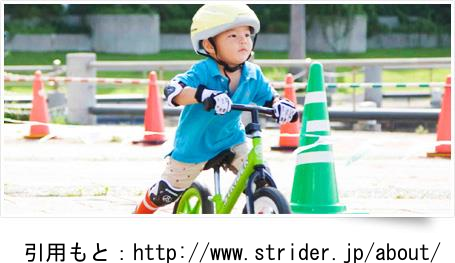 This running bike seems to be very good for practicing children's bicycles, which seems to be much faster.
When I was a child, I took parents behind a bicycle with auxiliary wheels and practiced.
There is a memorandum that I had crying many times after I took off my hand while telling me "Do not let go of my hand", I'm sure many people of the same generation have experienced it I think that.
The way of practicing this bicycle is a practice method which did not change even when I taught my sons to practice bicycles.
As my father did to me, I also gently let go of my hand, practicing while repeatedly crying and falling as a child repeatedly practiced the bicycle, "Ganbare, all right, you can do" . I thought that it would be such a way of practicing bicycles.
Recently, however, with the advent of running bike, children seem to be able to ride a bike with nature while practicing by themselves on their own.

Running bike for rental used at the event
The reason why running bikes are excellent as a way of practicing children's bicycles is as follows.
It is hard to get injured.
Running motorcycles are bicycles that can be ridden safely even for children 2 years old because there are no protrusions protruding, such as pedals and chains which are easy to injure. Moreover, being light and being low in center of gravity, it seems that it is suitable for practicing bicycles of children, also being difficult to fall over.
Help the sense of balance with nature
In the movement that you cross the bicycle and kick the ground with your feet, you get a sense of balance and nature. In the case of a tricycle or a bicycle with an auxiliary wheel, since it is based on assistance, the sense of balance is not cultivated.
I will be able to ride my bike without being taught by anyone
In kicking the ground with your feet, you will be able to get to nature and bicycle in the normal movement of going forward.
It is a substitute for running biking that children can ride a bicycle naturally in this way. It seems that the price is not so high and it is sold at about 10,000 yen, so I think that it is perfect as a gift for your children 's birthday.
By the way, this event was mainly focused on Shimanami-Kaido, Cyclo-Tourism-Shimanami which is planning and managing various attractive events on bicycles. If you are interested in running bikes, I'd suggest inquiries.


Event planning and management:Cyclo-Tourism-Shimanami
Cyclo-Tourism-Shimanami is a private non-profit organization aiming for sustainable community development through the spread and proposal of a new travel style "cyclotourism (bicycle travel)" that fully uses the five senses and enjoys the whole area.
http://www.cyclo-shimanami.com/
TEL/FAX 0898-33-0069
E-mail:cyclo@cyclo-shimanami.com
Related Page