Innoshima is the second island from Onomichi City. In Innoshima, in the past, the cultivation of flowers that keep insects away from insects such as insecticides was thriving. For this reason, flower cultivation is still popular today. I would like to introduce about Innoshima on this page.
"Innoshima" is a flower island.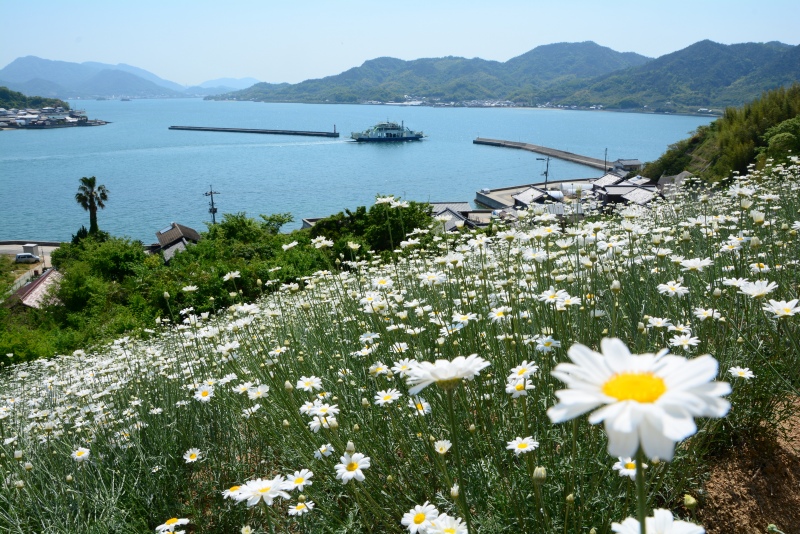 "Innoshima" was once an island where we cultivate flowers with insect-removing chrysanthemums, which have ingredients that keep insects away. Innoshima is still an area where flower cultivation is thriving due to the prosperous cultivation of pesticide chrysanthemums.
Around May, "Pesticide chrysanthemums" will bloom with white flowers. On the sunny slopes of Innoshima, a lot of "Pesticide Chrysanthemums" are planted. So around May, many tourists visit Innoshima to see the beautiful landscape of the slopes covered with the "Pesticide Chrysanthemum".
When you look up, you can see the magnificent "Innoshima Bridge".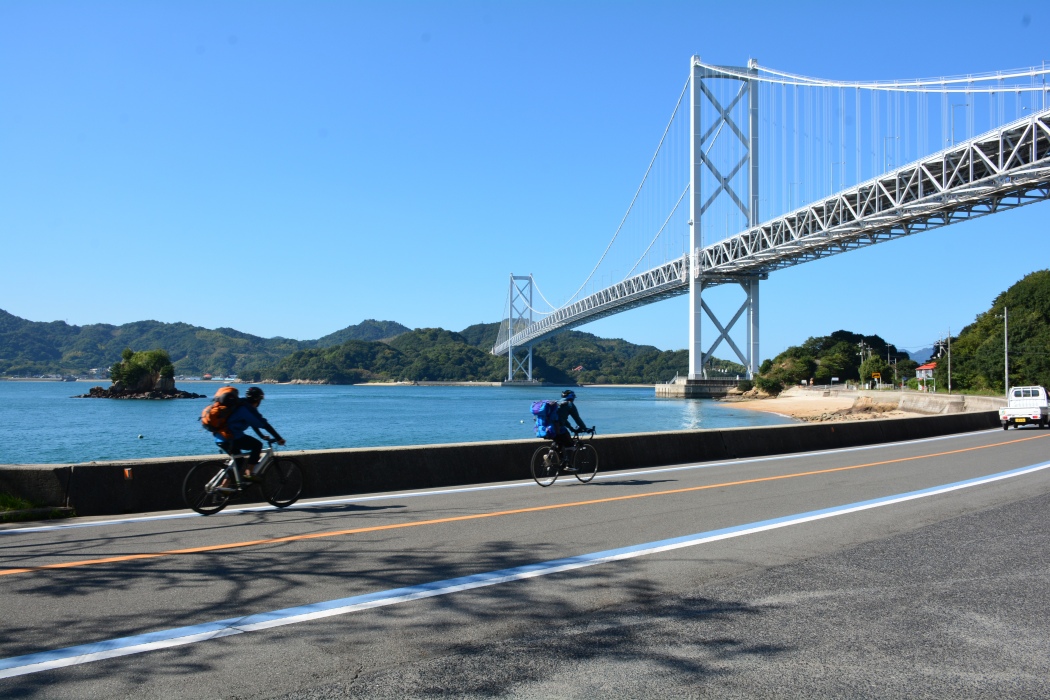 "Innoshima Bridge" is a bridge with a magnificent appearance. When you look up, you can see the magnificent "Innoshima Bridge". When you look at Innoshima Bridge from below, you can take pictures of the beautiful and magnificent bridge.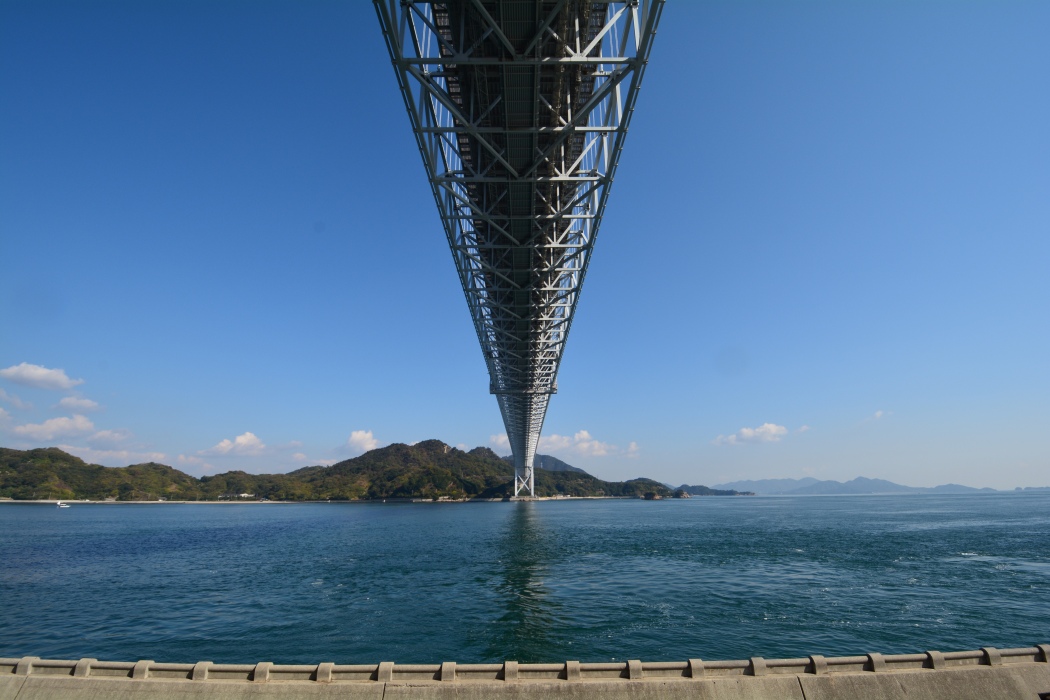 However, "Innoshima Bridge" is a very nice bridge when you look up, but when you cross the bridge, you can't see the beautiful scenery. This is because the Shimanami Kaido Cycling Course is located under the expressway at Innoshima Bridge. I don't like the "Innoshima Bridge" cycling course because it has a strong blockage. I think Innoshima Bridge is a "bridge to look up".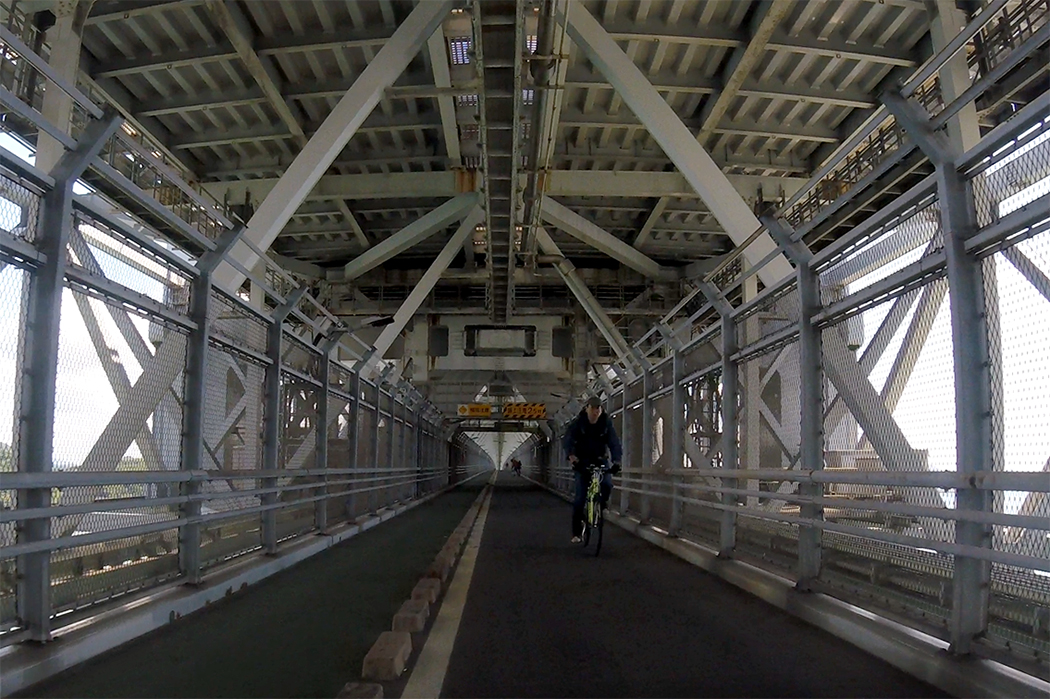 Innoshima scenic point "Shiratakiyama"
Shiratakiyama is a mountain with an altitude of 226 meters. Originally it was a mountain for rigorous training for those who practice Buddhism. Shiratakiyama has a temple called Kannon-do. It is said that this Kannon-do was built in 1569 by the 6th generation Murakami Suigun, Yoshimitsu Murakami, who was active in Innoshima, and built this temple as a lookout point for Nigori Seto.This Kannon-do is a view spot that represents Innoshima.
The approach to go to Kannon-do and the stone buddha scattered around the summit are called 500 Rakans. These stone buddhas are said to have been made in 1830 by the founder of the religion "Ikkan", Denroku Sugawara, and his disciples over three years.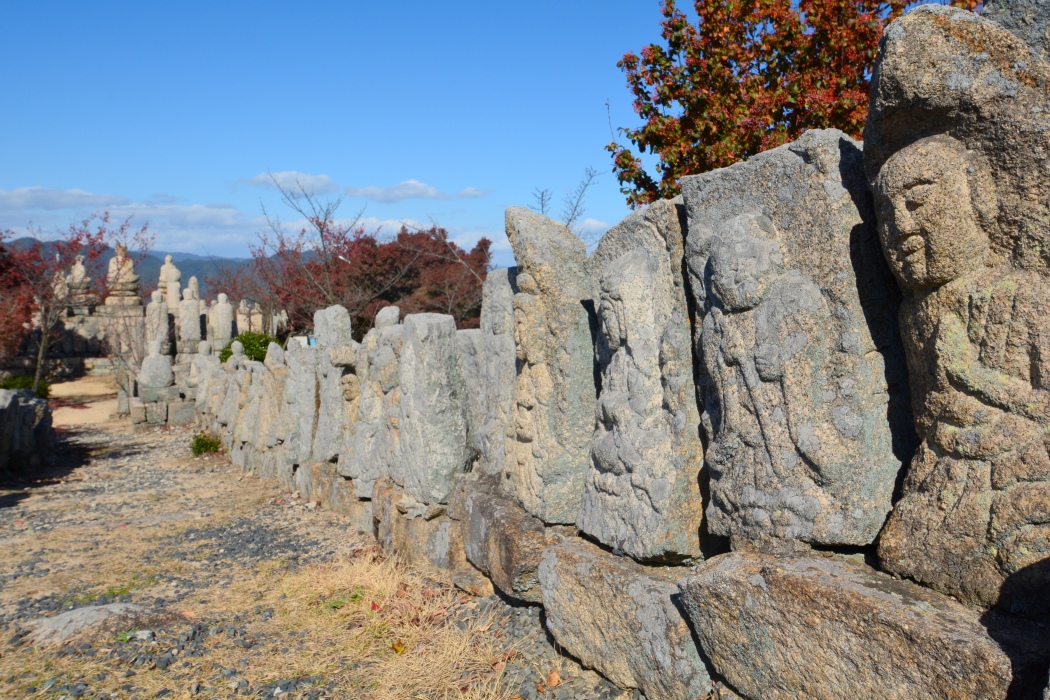 At Shiratakiyama, you can enjoy cherry blossoms in spring and autumn leaves in autumn.
Shiratakiyama, also known as a sunset spot, offers a spectacular view of the Seto Inland Sea, shining golden.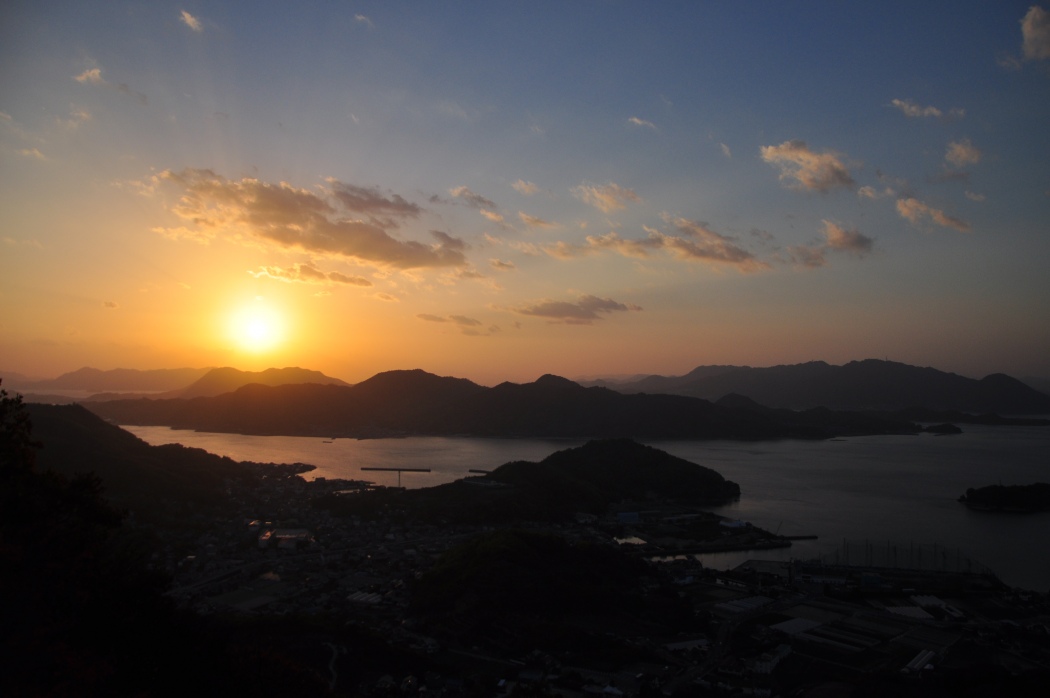 Recommended sweet "Hassaku Daifuku"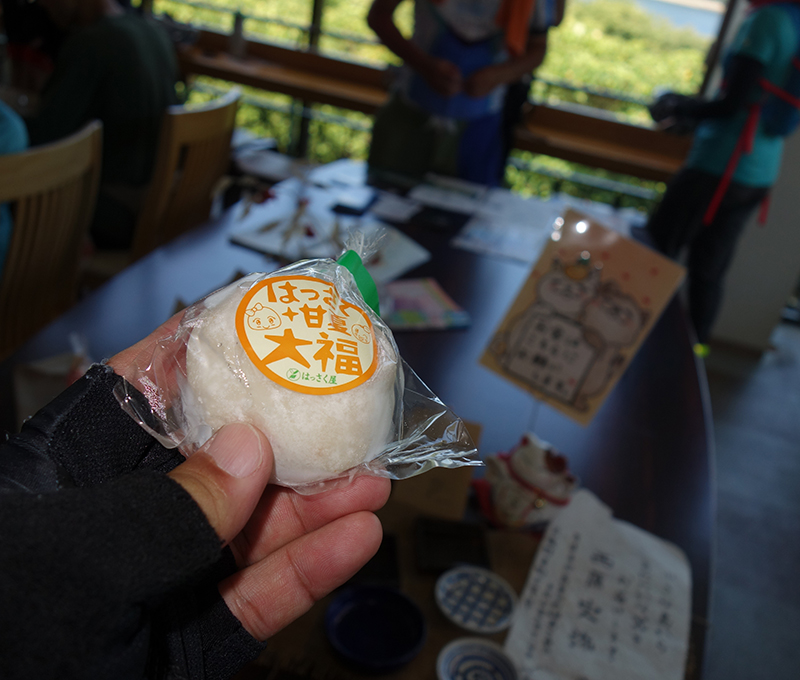 The famous confectionery in Innoshima is the traditional Japanese Daifuku called Hassaku Daifuku."Daifuku" is a traditional Japanese sweet. "Daifuku" is a type of Japanese confectionery that wraps sweet red-bean paste.However, Hassaku Daifuku is a very delicious confectionery with whole mandarin oranges called "Hassaku" instead of sweet red-bean paste.
The famous shop of Hassaku Daifuku is called Hassakuya. The place where "Hassakuya" is located is where you crossed "Innoshima Ohashi" and arrived at Innoshima and then ran about 5 minutes by bicycle.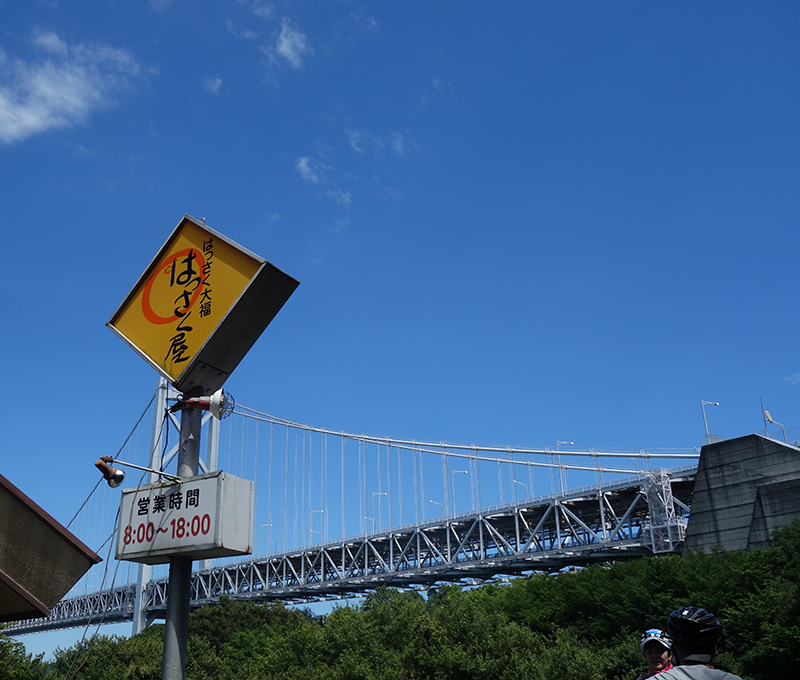 Next to Innoshima is an island called Ikuguchi Island.
After enjoying Innoshima's cycling, you go to an island called "Ikuchijima" next to Innoshima. To go to Ikuchijima, cross the bridge called "Ikuchijima Ohashi". From Ikuguchijima Ohashi, you can enjoy the beautiful scenery of the Seto Inland Sea.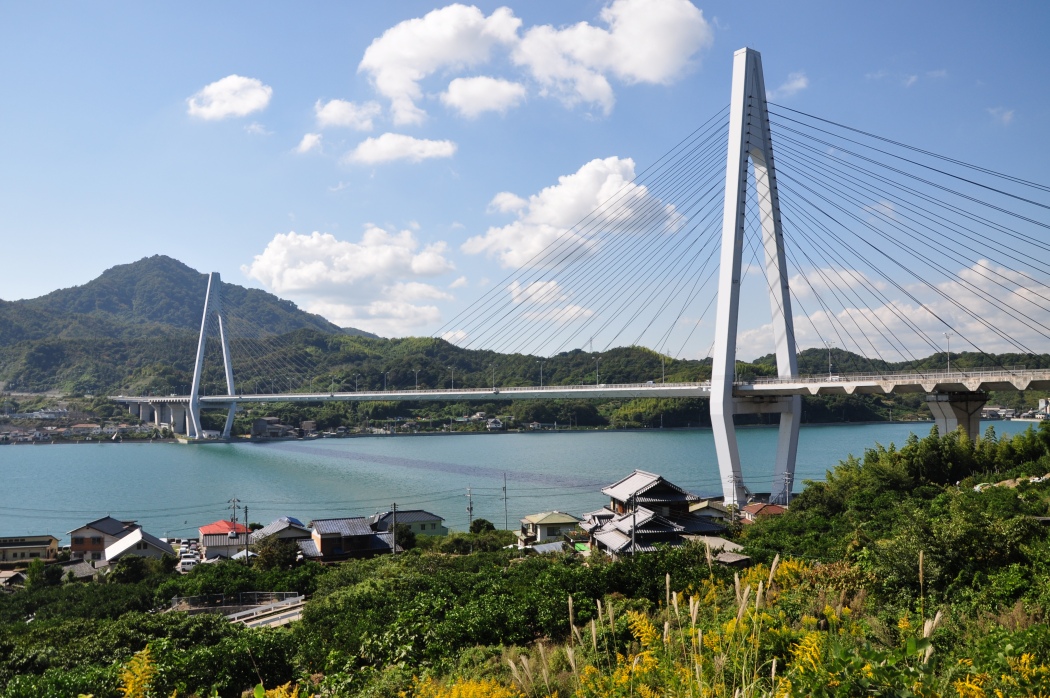 Ikuchijima is the most lively place on the Shimanami Kaido, called "Setoda". Also, on Ikuchijima, "art" is set up here and there. Please enjoy the following "Ikuchijima" article.